Because We Are Often Out On Service Calls
Call 1-570-352-5501 For Sales Appointment
---
Below are some Links of products we sell
And Services We Provide
---
We Sell Kawai Digital Pianos
Great Selection
Click Here For Available Instruments

We Sell Kawai Acoustic Pianos
Click Here for Available
Instruments

We Sell Yamaha Digital Pianos
Click Here For
Available Instruments

We Sell Hallet Davis Pianos with QRS Digital Player System
Click here for more information



---
We Sell Rebuilt Vintage
Hammond Organs
Click here for information

We Sell Yamaha Digital Keyboards And Workstations
All Price Ranges
Click Here For Inventory

We Move Pianos & Service Pianos, We Tune and Rebuild Pianos
Click Here For Information

We Rebuild And Service
Vintage Hammond Organs
And Leslie Speakers
Click Here For Information



---
BELOW ARE SOME LINKS TO SERVICES WE OFFER
IF YOU'RE LOOKING FOR PARTS, SERVICES, OR HELP
CHECK OUT THE LINKS BELOW


We Have An On Line Shopping Cart
Great Selection Of Instruments, Accesaries, Parts & Supplies
Click Here For Items We sell On Line

We Sell Economical Used And Refurbished Pianos
Click Here for Available
Instruments

Information About How We Can Help You
Sell Or Get Rid Of Your Piano
CLICK HERE FOR INFO

We Purchase Vintage Hammond Organs and Lesies
Click here for more information



---
A Message From The Owner



Welcome To The Home Page Of Piano Organ Depot. At the age of 12 I decided to pursue music as a career. That led to a pilgrimage that has enabled me to help many people to find a quality Piano, Organ or Keyboard. We specialize in what we sell. We know our products, and understand every aspect of this industry. Years ago many entrepreneurs would open a Piano Organ Store with little knowledge of Pianos or Organs. It was just a good profitable business. They were in it just for the money. When the profits become low they went out of business. The reason this happened was because of the overhead. This will never happen to us. When I worked at a Piano Organ Store, we had separate tuners, separated organ repair people, separate men who moved the pianos, we had a secretary , an accountant, we had a staff of sales people. That was 38 years ago. Today most of those larger chains are out of business. There are many reasons for that. Today in our business I can fill all the roles mentioned above with my family and a few friends. To you that means SAVING SAVINGS SAVINGS… I have networked with Magdon Music where we offer a public display of our New Pianos, Organs and Keyboards. We have three warehouses in the Endless Mountain Regions of PA. Because I double up on service we are open only by appointment and again that means to you SAVINGS! I think you will find that there is no other company that can be of service to you like our compaany. We have the leading products in the industry. We provide the best service in the industry and we can give you the best support ever. We help you to understand your instrument. We sell New Kawai Digital Pianos and Acoustic pianos, we sell Yamaha Keyboards Clavinovas, and Hybrid pianos, we refurbish and sell Vintage Hammond Organs, and Leslie speakers, we also sell Viscount Digital Classical Organs. We also have a shopping cart where you can buy parts, accessories and supplies for your piano. Thank you for visiting our Page and do browse through the various links and contact us is we can be of further assistance to you.

Sincerely

Frank & Elaine Bissol (Owners)




Great Selection

Pianos, Kawai, Yamaha, Hallet Davis and
Other Major Name Brands,
New & Used

Refurbished Pianos

New & Rebuilt Organs Hammond, Viscount, Lowrey
---
Call us at (570)352-5501

call for an appointment to see our
Pianos, Organs, Digital Pianos and Keyboards.

| | | | |
| --- | --- | --- | --- |
| | | | |
| Player Grands | Studio Consoles | New Grands | New American Style Consoles |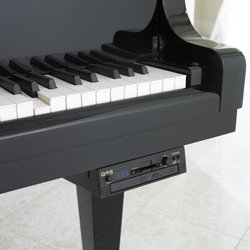 (Click on photo for a link to Hallet Davis Video Tour.
Hallet Davis German Design Best Piano For Best Value Ever!
Now with state of the art digital player system at manufacturer direct pricing
---

WE SELL VINTAGE REBUILT AND
REFURBISHED HAMMOND ORGANS.
We rebuild and refurbish vintage hammond organ. We usually have B-3's, C-3's A-100's and RT'3's in Stock or in the process of being rebuilt. We usually match these up with an appropriate Leslie. We also hook up a Neo Ventilator to these organs which is a very economical solution for the church that is strapped financially. Below are some links to examples of organs we usually have in stock. Most of them are sold but we usually have organs like them. Call us for our available inventory.
REFINISHED REBUILT
HAMMOND B-3
WITH REFINISHED LESLIE 122




(Click on photo for details and more pictures)

WAS $14,995 NOW ON SALE
For $9995.00
LIMITED TIME OFFER!

NEW XE-2 HAMMOND ORGAN
HAMMOND XE-2
WITH 24 MIDI BASS PEDALS
INCLUDES EXPRESSION PEDAL
WE HAVE ONE NEW FLOOR MODEL LEFT
IN A REFINISHED B-3 CABINET
ONE OF A KIND SET UP





(Click on photo for details and more pictures)

Call For Price
LIMITED STOCK ITEM!




For Examples of Instruments We Have Rebuilt and Sold Around The Country,

(Click Here)

We Usually Have Other Instruments like these in stock, call for available Inventory We Personally Deliver All Over The Eastern USA We can Arrange Delivery Anywhere in the USA